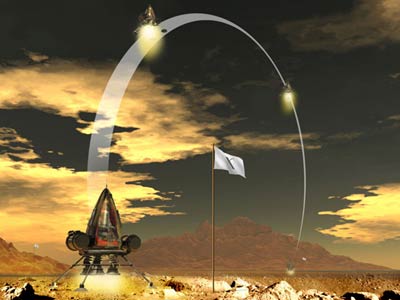 The U.S. space agency announced it will offer $2 million in prizes to competing teams successfully demonstrating a prototype lunar lander.
The National Aeronautics and Space Administration's Centennial Challenges Program will offer the prizes during the X Prize competition this weekend at Holloman Air Force Base in Alamogordo, N.M. Winning teams must meet the requirements of the Northrop Grumman Lunar Lander Challenge.
The project is aimed at accelerating technological development leading to a commercial vehicle capable of ferrying cargo between lunar orbit and the moon's surface.
To win the prize, teams must demonstrate a rocket-propelled vehicle and payload that takes off vertically from the New Mexico competition site, climbs to a defined altitude, flies for a predetermined amount of time and lands vertically on a target that is a fixed distance from the launch pad.
After landing, the vehicle must take off again within a predetermined time, fly for a certain amount of time and then land on its original launch pad. There are two levels of difficulty, with awards for first and second place at each level.
X PRIZE Foundation and NASA announce $2.5 million Lunar Lander Challenge
NASA and the X-PRIZE Foundation have announced a teaming agreement to offer the Lunar Lander Analog Centennial Challenge. Under a Space Act Agreement, NASA will supply the prize purse, the largest to date for a Centennial Challenge, and the X-PRIZE Foundation will administer and execute the competitions.
The first Lunar Lander Analog competition will take place at the X PRIZE Cup Expo in Las Cruces, New Mexico, October 20-22. The competition is split into two difficulty levels, with differing prize pools for each. Level 1 requires a vehicle to take off from a designated launch area, rocket up to 150 feet (50 meters) altitude, then hover for 90 seconds while landing precisely on a landing pad 100 meters away. First prize for this level is $350,000. A $150,000 prize goes to the runner-up.
The more difficult level 2 challenge requires a vehicle to take off from a designated launch area, rocket up to 150 feet (50 meters) altitude, then hover for 180 seconds before landing precisely on a simulated, rocky, lunar surface 100 meters away. $1.25 million dollars goes to the first place getter, with $500,000 and $250,000 available for second and third place.