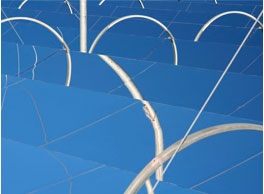 Environmentally friendly solar panels may be an affordable alternative to conventional power sources within the next ten years, as a result of a new initiative launched this week.
The project, funded by the Carbon Trust, will be led by the University of Cambridge's Cavendish Laboratory in collaboration with The Technology Partnership.
Currently solar panels are made from silicon, which makes them expensive to manufacture and therefore cost prohibitive for many. However, new technology being researched at Cambridge uses plastic to create solar cells, a much more cost effective and energy efficient method.
The scientists have already developed a small prototype solar panel that can power a calculator. The next step will be to advance this technology so that it can be easily applied on a much larger scale and ultimately be manufactured in large sheets of plastic. These sheets will be able to sit on a wide range of surfaces, including windows or building roofs, to capture solar energy. Simple applications could also include chargers for mobile telephones or laptop computers.
If the project succeeds in its aim to deploy more than 1 gigawatt of power using the new solar panels by 2017, it could deliver CO2 savings of more than 1 million tonnes per year.
Sir Richard Friend, Cavendish Professor of Physics in the University of Cambridge, said:
"We are delighted to work with The Technology Partnership and the Carbon Trust on solar energy. This is a timely opportunity to build on technology developed in the University, and we will capitalise on the local Cambridge strengths in taking science to manufacturing."
For further information, please contact the University of Cambridge Office of Communications on 01223 332300.
MORE NEWS......
JOIN THE SOLUTION; Affordable Solar Energy For Every Home

GET SOLAR ENERGY NOW! No Purchase Required

Many of us share a high degree of Ecological and Environmental awareness and we hold the dream to install Solar Energy in our homes, this has been next to impossible for most of us to realize due to the knowledge required and great expense of installing and maintaining your own system.
Now that has changed with this revolutionary new program and Solar Energy is possible for us all!
Locally and all across this country (USA ONLY!) we can "Join the Solution" using this affordable program to get a Solar Energy system that gives you the ability to generate electricity right at your home with what many experts consider to be the safest, simplest, most environmentally conscious, and effective way available today; converting sunlight directly into usable electricity.

In many states where utility power and net-metering are available, this grid-connected solar electric system will supply most, if not all, of the energy consumed by you throughout the year.
OUR DREAM HAS NOW COME TRUE!
~ No Purchase Required ~
Get Solar Panels Placed On Your Home
(A Complete Solar Power system)
NO SYSTEM PURCHASE: No upfront investment, no waiting for rebates, easy and affordable for virtually any homeowner. Reserve your system with out charge on our website now with no obligation. Upon installation there is a one time security deposit of only $500 required.
NO MAINTENANCE COST: No performance worries: You will never have to worry about maintaining the system, replacing parts, or wondering if the system is performing to its best ability because it is constantly monitored and our service technicians take care of any problems immediately if they arise.
NO INSTALLATION COSTS: We engineer a system that meets your exact needs and it is professionally installed and maintained by our team of dedicated engineers and technicians with no cost to you.
NO PERMIT HASSLES: We obtain all of the proper permits, procure the appropriate equipment, install the system on your home, and integrate it with your utility company. You are completely relieved of all the typical headaches that come along with this part of the process.
NO RATE INCREASES: Actual hedge against future utility price increases: you can "lock in" your 2006 rates for the electricity generated from the solar system at your home for a period of up to twenty-five years, far longer than the guaranteed rates offered by other electricity providers.
NO POWER OUTAGES: Greatly reduce or eliminate the chance of power outages for your home: In our modified designs, which the Customer has the option to take advantage of, we can either supply a utility grade switch that during a black-out will allow the Solar System to continue delivering power to the Customer or we can install a secondary panel that is designed to continue running critical and preferred loads during a power outage.
Join me in helping to spread the word about this great affordable program that will help everyone GO SOLAR!
Regardless of what people believe about Global Warming--the fact is that the population is growing and we need affordable clean renewable energy sources. Many do not want more nuclear plants built and most renewable energy systems available for purchase are approximately $40,000 or more. NOW There is a better solution on the horizon.
Several Fortune 500 companies have teamed up with a Delaware Company to invest over $650 Million into a solar panel rental program that is targeting to "solarize" 25% of American single family homes. Rental fees will consist of the locked current electricity rate guaranteed not to increase over the time of the contract (up to 25 years). Only a small refundable security deposit is required.
Renewable Energy Credits will help to support this project. The latest technology in photovoltaic solar panels will be rolling off the assembly lines later 2007. Applications are currently being accepted for qualifying U.S. residential homes. It is prudent to reserve a system early if interested in affordable alternative energy.
Visit: http://www.GetSolarEnergyNow.com
No charge to Reserve Your Solar Energy System Now & Watch The Video with Actor, Environmental Activist & Spokesperson Ed Begley Jr.
Join The Solution and be an Ecopreneur and spread the news,
Become an affiliate with no charge to you
You can feel good about joining the solution, deciding to fight Global Warming, improving of national security, reducing our need for foreign oil, and actually save money doing it.