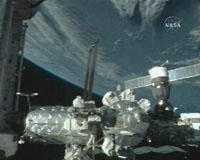 India has sought the help of Russia to join the orbital International Space Station (ISS) project in the face of "objection by some other project partners", a top Russian space agency official has said.
"India has approached us, this (India) is a serious space power and would like to join ISS project. However, objection by some other project partners has put a question mark on this issue," Russia's Federal Space Agency (RKA) Chief Anatoly Perminov said responding to a question about the expansion of the ISS project participants. Besides Russian RKA, the ambitious ISS project includes the NASA of the USA, Canada, Japan and European Space Agency (ESA).
"I won't identify, who is concretely blocking India's entry, but they argue that the number of participants of the project is set by the international treaties and is enough to complete the construction of the orbital station," Perminov told reporters at a news conference here.
Lauding India's achievements in unmanned space flights, Perminov said that it was her natural desire to offer its contribution in the development of ISS. "I am confident that sooner or later, in any case after 2010 this issue (India's accession) will again be raised," Perminov said.
MORE NEWS...
Space Station Expedition 16 Crew Approved

A Russian space flight commission has approved the members of the main and reserve crews for the 16th expedition to the International Space Station (ISS), a RIA Novosti correspondent reported Thursday. The main crew members, Russian cosmonaut Yuri Malenchenko and NASA astronaut Peggy Whitson, are scheduled for take-off October 10 aboard Soyuz TMA-11, together with Sheikh Muszaphar Shukor, the first Malaysian astronaut.
Shukor will spend 10 days at the ISS, and return to Earth in late October with the Russian members of the previous expedition - Fyodor Yurchikhin and Oleg Kotov.
Malenchenko and Whitson will be joined later at the ISS by new Flight Engineer Daniel Tani, arriving with the Discovery STS-120 mission, which is scheduled for launch on October 20.
Whitson is set to become the first female commander of an ISS expedition. She will spend around six months in space.