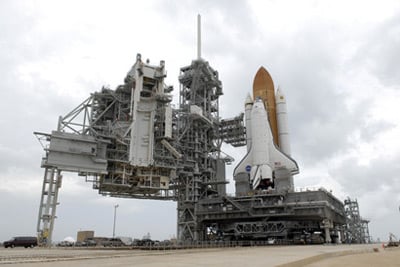 Space tourist back on terra firma
Space tourist Richard Garriott and cosmonauts Oleg Kononeko and Sergei Volkov this morning returned safely to Earth from the International Space Station, touching down in their Soyuz capsule in Kazakhstan at 10:37pm CDT (03:37 GMT).
Garriot stumped a cool $17m to spend ten days in space, following in the footsteps of his dad Owen Garriot who in 1973 passed 60 days aboard Skylab. Kononeko and Volkov ended their Expedition 17 jaunt to the ISS having enjoyed 199 days in orbit and 197 days on the space outpost.
The ISS is now in the hands of Expedition 18 crew Michael Fincke, Greg Chamitoff and Yury Lonchakov. Their main focus is to "prepare the station to house six crew members on long-duration missions beginning in spring 2009".
They'll be supported in their task by space shuttle Endeavour's mission STS-126, due to blast off on 12 November bearing equipment and supplies in the Multi-purpose Logistics Module Leonardo. The delivery includes "additional crew quarters, additional exercise equipment, equipment for the regenerative life support system and spare hardware".
Endeavour was yesterday trundled to Launch Pad 39A at the Kennedy Space Center in anticipation of the launch (see pic). It was relocated from Launch Pad 39B "so workers there could continue modifications to the launch complex for the Ares I-X test flight in 2009"