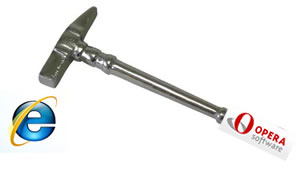 Web browser firm files complaint over Microsoft
A small Norwegian maker of Web browsers, backed by an industry coalition, has filed the first complaint against Microsoft to the European Commission since the software giant lost a landmark antitrust case earlier this year.
Opera Software said it has complained that Microsoft Corp (MSFT.O: Quote, Profile, Research) illegally ties its Web browser, Internet Explorer, to its dominant Windows operating system.
Microsoft is also "hindering interoperability by not following accepted Web standards", the company said.
Both make it difficult for Opera to compete, it said.
Commission spokesman Jonathan Todd confirmed that the EU executive had received the complaint, which comes after a September 17 EU Court of First Instance ruling that upheld a 2004 European Commission decision against the company on antitrust grounds. Todd said the complaint would be studied carefully.
Opera is a member of the European Committee for Interoperable Systems (ECIS), a long-time opponent of Microsoft, and ECIS issued a statement critical of the software giant.
"By tying its Internet Explorer product to its monopoly Windows operating system and refusing to faithfully implement industry accepted open standards, Microsoft deprives consumers of a real choice in Internet browsers," ECIS lawyer Thomas Vinje said in the statement.
Opera's complaint echoes a U.S. case from 1998, in which the U.S. Justice Department won a major judgment against Microsoft for competing illegally against another browser, Netscape.
Opera asked the Commission to force Microsoft to unbundle Internet Explorer. It also asked the Commission to require Microsoft to follow "fundamental and open Web standards".

Opera Take A Double EU Pop At Internet Explorer
Multi-platform Web browser company Opera have filed a complaint with the European Commission citing Microsoft's Internet Explorer.
The approach is two pronged - abuse of Microsoft's dominant position in tying its browser to the Windows operating system and, second, hindering interoperability by not following accepted Web standards.
The abuse of position is, for want of a better word, a 'normal', or expected approach, but the interoperability one is interesting.
It's well known that people developing Web sites have a burden on them in having to develop different versions of Web sites to ensure that all Web browser display the sites as expected. If a browser doesn't support accepted standards, this obviously make the whole process more difficult, time consuming and expensive.
Ambitious action
This is an ambitious action by Opera, not one that we would have thought would normally be taken on without an indication from the EC that they might be in with a chance of success.
We spoke to Jon von Tetzchner, Opera's CEO, putting that to him. "We don't have any direct indication," he told us, "but once we saw the EC ruling on the Media player, we believed we stood a good chance." He continued, "We believe in the merits of our argument and are optimistic in the case being successful."
Von Tetzchner raised the valid point that as Browsers go to more devices, "a unified Web is important." Sound thinking on our book.
We asked how the compatibility of a Web browser can be proven, von Tetzchner offered that "a number of tests would be needed." He suggested that the ACID 2 could be a starting point, but that "third parties could be brought in to provide impartial tests."
ACID 2 is a challenge to meet, indeed von Tetzchner told us that it too quite some effort for them to ensure that Opera 3 got through the process, something that they took on some time ago - they're now on release 9.
Taking the sword of truth in both hands, von Tetzchner, swung it, "We are filing this complaint on behalf of all consumers who are tired of having a monopolist make choices for them. We cannot rest until we've brought fair and equitable options to consumers worldwide."
We, and we're sure anyone who has ever tried to develop a Web page, fully support any action that make the process less frustrating.