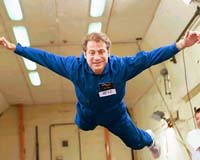 Researchers, teachers and students will have access to weightless and variable-gravity conditions under a new agreement between Embry-Riddle Aeronautical University and Zero Gravity Corp. (Zero-G). Embry-Riddle and Zero-G will work together to integrate weightless flights and space science workshops for K-12 teachers, develop experiment programs for high school and college students, and expand microgravity, lunar gravity, and Mars gravity research opportunities aboard Zero-G's G-Force One aircraft.
The collaboration will include Embry-Riddle's support for development of the Stephen Hawking Microgravity Education and Research Center. The Hawking Center is an initiative of Space Florida, Florida's aerospace development agency, conceived after the renowned astrophysicist flew aboard G-Force One earlier this year. Embry-Riddle's student researchers are frequent flyers on NASA's microgravity educational flights, making the university well qualified to work with Zero-G and Space Florida to develop Hawking Center research projects.
"Zero-G has already demonstrated an outstanding commitment to providing professional development for science and mathematics teachers, and has a unique platform for supporting innovative R and D," said Michael Hickey, director of Embry-Riddle's TeachSpace educational program. "We look forward to leveraging Zero-G's capabilities to pursue our common interests in space education, research, and training, especially as NASA moves to privatize its own microgravity aircraft program."