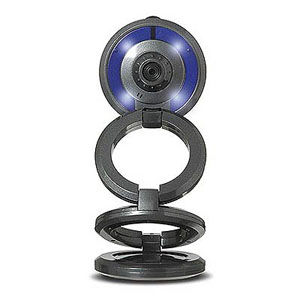 CyberLink Launches Webcam Application: YouCam
CyberLink Corp. (TSE:5203), a leader in digital home solutions, today announced the release of CyberLink YouCam, the webcam software that adds dynamic effects to live instant message conversations.
CyberLink YouCam offers the following:
-- 49 dynamic effects that can be applied during live video chatting, including frames, filters, distortions, and emotion effects
-- Compatibility with Windows Live Messenger, Yahoo Messenger, Skype, and AOL Instant Messenger
-- Applying effects while capturing videos and photos
-- Capturing of single shot or multi-shot sequences in JPEG format
-- Uploading of captured videos and photos to YouTube or direct emailing from within YouCam
-- Free effects available for download from CyberLink's website (http://directorzone.cyberlink.com/youcam/)
"There's been explosive growth in the use of webcams to do instant messaging as a quick way to keep in touch across long distances, for work and for pleasure," said Alice H. Chang, CyberLink CEO. "And with the huge availability of web cameras -- both built into notebooks and standalone units -- CyberLink YouCam creates a fun way to talk to friends online, with all kinds of expressive effects that can be used with a web camera."

Click here to watch a video featuring Gartner vice president Michael Maoz sharing new insights on innovative technologies and processes shaping the future of customer service.

Click here to learn how Continental Dispatch Accelerates Customer Service with a Hosted Contact Center System.

Click here to learn how to leverage greater long-term value from your CRM system.

CyberLink YouCam is available online in the following languages: English, Chinese (Simplified and Traditional), German, Japanese, French, Italian, Korean, and Spanish. Multi-license packs allow users to install their software on two different computers. CyberLink also offers OEM versions to PC and CE manufacturing customers.
Versions and Pricing
CyberLink YouCam is available online in the following configurations:
-- YouCam (single user) USD 34.95 and Euro 24.99(1)
-- YouCam (2-license pack) USD 49.95 and Euro 34.99(1)
-- YouCam (4-license pack) USD 69.95 and Euro 49.99(1)
(1) plus any applicable tax/VAT
http://www.cyberlink.com/multi/cyberstore/order_125_ENU.html[FEED_CRLF]
About CyberLink
CyberLink Corp is the leader and pioneer in enabling digital multimedia on PCs and CEs. CyberLink Software Solutions include: complete applications for Blu-ray Discs and HD DVDs, Digital Home entertainment, Mobile TV and eHRD solutions. CyberLink's headquarters is in Taipei and has operations in North America, Europe and the Asia Pacific region, including Japan. For more information, please visit CyberLink's website at http://www.cyberlink.com.