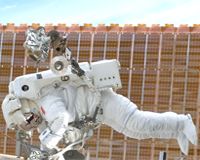 NASA has postponed for one day a spacewalk by two crew members from the Discovery space shuttle, pushing it back from Thursday to Friday, US space officials said.
They said the spacewalk, the fourth of this current mission, will focus on repairing a panel torn Tuesday on one wing of a solar array.
"The flight control team has just informed the crew that the mission's fourth spacewalk is now targeted for Friday," the US space agency said in a statement Wednesday. "The spacewalk will be focused on the solar array wing."
The solar panel on the International Space Station ripped as the antenna was deployed Tuesday.
The solar antenna, which has wings measuring 76 meters (249 feet) when unfurled, was repositioned after astronauts earlier successfully installed a massive truss that is used to rotate the energy-generating solar arrays.
NASA estimated the tear in the panel to be about 90 centimeters (35 inches), but said the solar antenna nevertheless has been providing about 97 percent of the energy it supplies to the space station.
The solar array is critical to providing power for the European Laboratory scheduled for delivery in December.
Another solar array is crippled by a malfunctioning rotary mechanism which was supposed to have been inspected during the spacewalk originally scheduled for Thursday.
Officials had planned to examine the rotary joint after having found small metal shavings and unusual wear in the joint in a space walk on Sunday.
All three solar arrays have to be fully operational before a Japanese laboratory can be delivered to the ISS next spring.
The shuttle, which blasted off on October 23, now is scheduled to return to Earth on November 7, after NASA earlier this week extended the mission by one day.